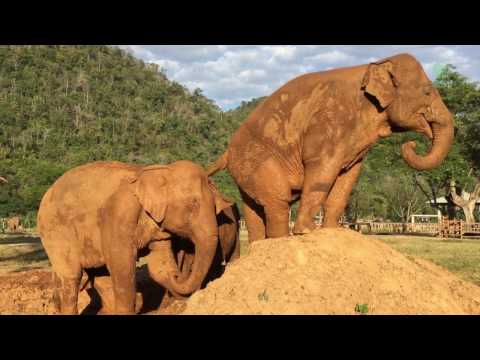 KUET CHANG, Thailand, Dec. 20 (UPI) -- An elephant at a sanctuary in Thailand took revenge on a pushy comrade by planting her rear-end in the other pachyderm's face and letting loose a huge fart.
A video posted
to YouTube
by Elephant News shows Faa Mai, an elephant at the Elephant Nature Park sanctuary in Kuet Chang, climbing on a small hill that was previously claimed by a fellow elephant named Kabu.
"Faa Mai loves to climb up Kabu's hill. Over and over she will do this. But every time when she reaches the top, Kabu will push her off, reclaiming the mound as her own. Faa Mai becomes frustrated with this and, while continuing to play, decides to share a lesson of her own. Listen for what Faa Mai is thinking at Elephant Nature Park," the video's description reads.
The video shows Faa Mai plant her hindquarters directly on top of Kabu's head and pass gas right into the other elephant's face.
upi.com